The lesson of the week? Don't play games on the VS. Network! In the last two weeks, USC and Cal have both gone down in (sort of) huge upsets. In fact, any game that is going to be broadcast from here on out on the VS Network, we're going to go ahead and take the dog every week.
Kentucky manned up big time, and took down the unanimous #1 team in the country in the form of the Tigers from Louisiana State. I had been saying all season long that LSU does deserve to be #1, but that they weren't the dominant type of team that a #1 team has been in the past. The Tigers were #1 in my book by attrition due to everyone else sucking. They were playing tenacious defense, but their offense was a bit lackluster at times.

LS-Who?
Oklahoma beat Missouri in a game that I did not watch because there's only so much Musburger one man can take, and well, I've filled my quota for the year. From what I understand, Oklahoma came back to rally in the 4th for a 10 point victory and all of a sudden are considered to be a top 5 team again (yes, I'm talking about you Corso). Um, yeah, this team lost to an unranked 2-2 Colorado team a couple weeks ago. Top 5? Maybe, just because everyone else sucks more.
And now, for Fulmer's Belly's message to Cal: AAAAAAAAAHAHAHAHA (breath) HAHAHAHAHAHAHAHAHAHAHAHA. Redshirt freshman? Great excuse. Ours was crappy defense. See how that works? Your team sucks, you start making excuses. Still doesn't take away the loss you rolling on bears you (worst cheer in sports).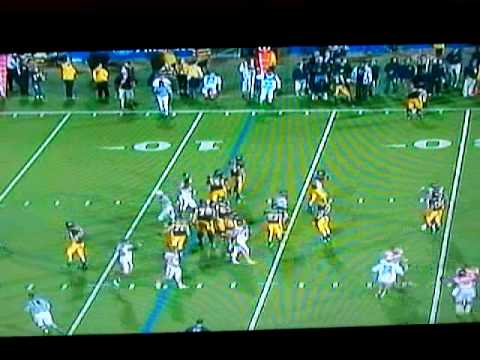 My favorite part? After he gets tackled, Kevin Riley runs away with the ball towards the sidelines much to the chagrin of the official looking to help them out (as Pac 10 officials seem to like to do) by spotting the ball. If you watch carefully, you can catch the official with his hands out, looking for the ball, and well, there's nothing there.
And finally, the Ainge Heisman watch is still in full effect with a 259 yard 2 TD 1 INT performance to bring his season numbers to 1,554 yards for 12 touchdowns and 3 interceptions with a QB rating of 140.8 going along with a 66.5% completion percentage. WOO!
Email this Post